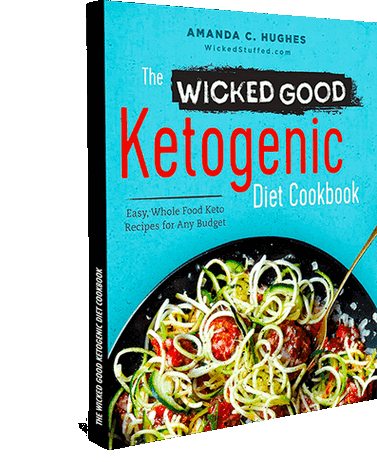 Ketogenic Diet BENIFITS + RECIPES + FREE Ketogenic Diet Cookbooks eBooks
24-Hour Ketogenic Reset Troubleshooting Tips:
Lethargic/ Tired? Add a tsp of sea salt to your lemon water or consume 1 Tbsp. of coconut oil (especially if you are experiencing low energy).
Hungry? Eat more food! Consume ¼ avocado (don't worry this won't affect your metabolism reset) or consume a hard-boiled egg. It is important you get enough food, but you also want to eat the right food. Add a piece of fruit to these quick snacks for a little extra pick-me-up.
Headaches or Can't Sleep? Supplement with > 500 mg Magnesium (malate, oxide, citrate, or glycinate) before bed. Also, make sure you are consuming plenty of water to avoid dehydration.
Constipated? Supplement with >500 mg Magnesium (malate, oxide, citrate, or glycinate). Consume 1 tsp of Chia seeds in 8 oz water (1x/day) or take psyllium husk (1-3x/day). Also, make sure you are consuming plenty of water to avoid dehydration.
Foods To Avoid:
• Sugary foods: Soda, smoothies, cake, ice cream, candy, desserts, etc.
• Most grains and starches: Wheat-based products, breads, buns, pasta,
processed cereal, granola, granola bars, etc.
• Brown, black, or white rice
• Fruit: All fruit, except small portions of berries like blueberries, strawberries,
blackberries, or raspberries
• Beans or legumes: Peas, kidney beans, lentils, chickpeas, etc…
• Root vegetables and tubers: Potatoes, sweet potatoes, carrots, parsnips, etc.
• Low-fat and sugar free diet foods or nutrition bars: These are highly
processed and often high in carbs, sugar, or sugar alcohols, which can negatively
affect ketone production.
• Some condiments or sauces: Watch for hidden sugars and other harmful
preservatives.
• Unhealthy fat: Limit your intake of processed vegetable oil, canola oil, corn
oil, or other high heat processed inflammatory oils.
• Beer, wine, or sugary cocktails: Due to its carb content, many alcoholic
beverages can throw you out of ketosis or limit ketone production. Vodka, gin,
rum, and red wine can all be consumed in moderation after your 3-week ketogenic diet
The Reset: BEFORE YOU START…
1.) Read over the guide
2.) Make a shopping list and go shopping
3.) Prepare your meals as much as you can the day before
4.) Make sure you're READY and COMMITTED to doing this
Drink as much water as possible throughout the day, preferably with a little bit of lemon juice squeezed in (unlimited amounts).
Pre-Breakfast Drinks:
Lemon-Water Cocktail
Ingredients:
• 24+ ounces of warm (not boiling) water
• 1 lemon
• 1 tsp. raw honey (optional)
Directions:
1.) Cut the lemon in half and squeeze one half or the whole lemon into the water.
2.) Add in the honey if using. Stir and enjoy!
Pro-Tip: After drinking, swish with some plain filtered water for 30 seconds to make sure the acid from the lemon juice doesn't remain on teeth.
Ketogenic Coffee
This drink is optional. You can drink nothing after your lemon water cocktail or tea (green, yerba mate, etc…)
Ingredients:
• 8 oz. of freshly brewed organic coffee
• 1 Tbsp. grass-fed butter or refined coconut oil
• 1 Tbsp. MCT oil
• pinch of cinnamon
Directions:
1.) Add all ingredients to a blender and enjoy!
Breakfast (2 options):
The Ketogenic Smoothie
Ingredients:
• ½ cup blueberries
• 1 heaping cup spinach
• Juice from ½ lemon
• ½ cup coconut milk
• 1 Tbsp. chia seeds
• 1 Tbsp. butter or coconut oil, melted
• 1 serving protein powder (15-20 grams)
• ½ cup ice (optional)
Directions:
1.) Combine all of the ingredients in a blender until smooth.
Ketogenic Scramble
Quick scrambles are my favorite breakfast of choice when staying in Ketosis. You can throw in eggs, most vegetables, and even bacon, sausage, or cheese to mix things up.
Ingredients:
• 1 Tbsp. coconut oil
• ½ red bell pepper, chopped
• ¼ cup yellow onion, diced
• 1 garlic clove, minced
• ¼ cup white mushrooms, sliced
• ¼ cup shredded cheddar cheese
• 2 eggs
• Salt & pepper to taste
• 2 Tbsp. organic red salsa
Directions:
1.) Heat the boil in a skillet over medium heat. Add bell pepper, mushrooms, onion, and garlic. Sauté a few minutes or until onion is translucent.
2.) Whisk eggs with salt and pepper in a small bowl. Add them to the skillet with veggies and cook until scrambled to your liking. Add shredded cheese. Plate with red salsa spooned on top.
Mid-Morning Snack (optional):
2 slices deli turkey or chicken breast
Lunch:
Tuna and Spinach Salad
Ingredients:
• 5-ounce can of wild tuna, packed in water
• ½ cup peeled and diced cucumber
• ½ cup diced carrot
• ¼ cup red onion, chopped
• Juice from ½ lemon
• 2 cups spinach
Directions:
1.) Drain the tuna well and put in a small mixing bowl. Add the cucumber, carrot, and red onion and mix well.
2.) Juice the lemon into the mixture and stir well. Serve over spinach
* If preferred, use balsamic vinegar or apple cider vinegar to taste instead of lemon, and a pinch of olive oil.
Mid-Afternoon Snack (optional):
1 hard-boiled egg
Dinner:
Turkey and Avocado Spinach Wraps
Ingredients:
• 4 to 6 ounce turkey slices
• 1 tsp. Dijon mustard
• Tomato slices
• ½ small avocado, sliced
• Spinach Leaves
Directions:
1.) Lay turkey slice flat layer with mustard, tomato, spinach, and avocado and roll up.
Post-Dinner Drinks:
Apple Cider Vinegar Elixir
Ingredients:
• 8 oz. purified water
• 2 Tbsp. apple cider vinegar
• 1 tsp. raw honey
• 1/4 tsp. cinnamon (optional)
• 1/4 tsp. cayenne pepper (optional)
Once you've successfully completed the Metabolism Reset, your energy will skyrocket and you will want to seize every day.
Once you start to feel better, and you will if you follow this plan, your goal is to stay consistent and commit to being the healthiest version of yourself.
Once you fix your broken metabolism, don't break it again.
What's after the 24-Hour Ketogenic Reset?
Ketogenic Diet RECIPES Cookbook with 249 PAGES, eBook in PDF format – The FREE DOWNLOAD is Here:

CLICK HERE to Download the Ketogenic Diet RECIPES Cookbook – eBook with 249 PAGES in PDF format for FREE
Wicked Good Ketogenic Diet Cookbook with 156 Recipes FREE e-Book in pdf Format – DOWNLOAD Here:

CLICK HERE to Download the FREE – Wicked Good Ketogenic Diet Cookbook with 266 Pages eBook in .PDF format
—-
—-
—-